Before the Hawth Theatre was built the old leisure centre on Haslett Avenue was the venue for concerts and recitals.
In 1981 my husband, Bill, and I had one of our first dates there, to see Glenn Campbell. He was excellent. On other occasions we saw Barbara Dixon, Chris Barber's Jazz Band, 10cc and many other great performers.
One day I saw that Griegs Piano Concerto was being staged, along with Mendelssohn's "Hebrides" and Brahm's Requiem.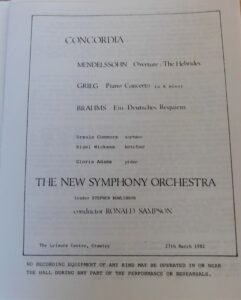 We both really like Grieg and Mendelssohn so I booked our seats. First on was the requiem for which we were given a synopsis in German. After listening for about half an hour Bill was getting bored so he asked me which verse we were on. I pointed to the third line! He couldn't believe that the lines were being repeated over and over again. The rest of the concert was very good!
Once the Hawth Theatre was built we were able to enjoy many concerts, musicals, opera and ballets. The highlight, for me, was Prokoviev's Romeo and Juliet. We had seen it at Sadlers Wells but when we realised that the same production was in Crawley two weeks later we decided to see it again, finding seats in the side corner of the balcony. On the night of the performance Princess Diana arrived with her entourage and sat in the middle of the auditorium where we were able to look down on her. She looked beautiful. She was a patron of the English National Ballet.
Many Ballet companies, often coming from a London Production and touring round the country have visited the Hawth, among which our favourites are Swan Lake and The Nutcracker. We have seen these many times because we love Tchaikovsky's music.
Touring companies bring opera, too. We are particularly keen on Puccini and have seen La Boheme and Tosca many times, as well as several others including the Barber of Seville, The Marriage of Figaro and Aida.
The concerts at the Hawth are first class. Nigel Kennedy came to perform at the Hawth when he was virtually unknown. He played Vivaldi's Four Seasons which later became one of the first classical records to become a hit with the general public. He came back the following year to play Bruch's violin Concerto which then became another favourite of ours. When, during this concert, he produced an electric violin and began playing it a bow-tied gentleman walked out! Another noted performer I have enjoyed at the Hawth is Ravi Shankar. There have been so many memorable concerts and recitals they cannot all be mentioned here.
Not only does the Hawth offer classical music but also shows such as That'll be the Day, which many people go to see year after year, and Return to the Forbidden Planet,
tribute bands such as Rod Stewart, Elvis Presley and Queen. Tommy Steele was also a welcome visitor.
(by Wendy)